Iran's foreign minister has strongly condemned the ongoing massacre of Palestinians in the besieged Gaza Strip by Israel as a blatant violation of international law.
Hossein Amir-Abdollahian made the remark in a phone call with his Hungarian counterpart, Péter Szijjártó, on Monday.
During the conversation, the two top diplomats discussed various aspects of bilateral relations as well as the latest developments in the West Asia region, especially the situation in Palestine and Israel's genocide in Gaza.
Referring to deteriorating humanitarian conditions in Gaza as a result of Israel's savage crimes, Iran's foreign minister said, "Through [indiscriminate] bombardment and massacre of people in the Gaza Strip, this [Israeli] regime has blatantly violated all [norms of] human rights and international law."
Amir-Abdollahian also underlined the necessity of mounting pressure on Israel by the international community to put an immediate halt on the regime's aggression against Gaza, establish a ceasefire across the territory, and pave the way for the dispatch of humanitarian aid.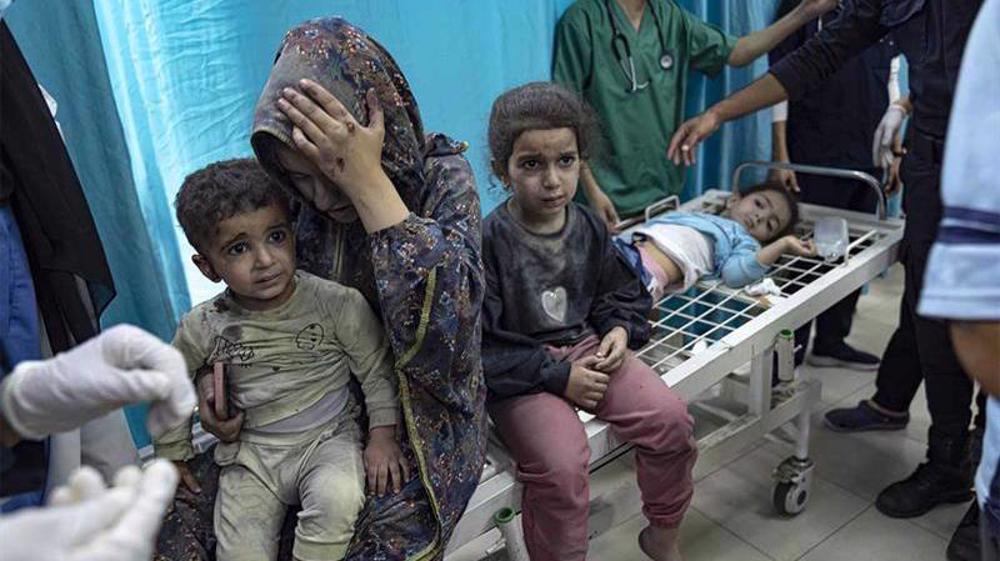 Israel started its war on Gaza on October 7 after the territory's resistance groups launched Operation al-Aqsa Storm in response to the regime's intensified crimes against Palestinians.
Since then the Palestinian death toll from Israeli strikes has climbed to 11,240, including 4,630 children and 3,130 women. More than 28,000 people have been also injured in the regime's military onslaught.
Israel has also blocked supply of water, food, electricity, and medicines to Gaza, plunging the coastal area into a humanitarian crisis. The regime has been defying global calls for a ceasefire as well.
On Sunday, the International Committee of the Red Cross (ICRC) sounded a stern alarm about the humanitarian situation in the besieged Gaza Strip, saying, "The situation [in Gaza] is rapidly approaching a humanitarian disaster."
"An unbearable human tragedy is unfolding in front of our eyes. People call us day and night saying they are afraid to open their doors for fear of getting killed and pleading to help them reach safety," said William Schomburg, head of the ICRC's sub-delegation in Gaza.