China urges an immediate ceasefire in Gaza amid the continuation of Israel's brutal attacks on the besieged Strip, expressing its readiness to work with relevant parties to help de-escalate the "extremely dire" situation in the blockaded area.
"China calls for an immediate ceasefire between parties to the conflict, all efforts possible to protect civilians and scaled-up humanitarian aid effort to ease the humanitarian crisis," Chinese Foreign Ministry spokesperson Mao Ning said at a regular press conference on Monday.
She added that in more than one month since the beginning of Israel's genocide against Palestinians in Gaza, the current humanitarian situation has become "extremely dire."
She described Al-Shifa Hospital, the largest medical complex in the besieged territory, as an "epitome" of the ongoing humanitarian crisis in Gaza.
The Chinese spokeswoman urged members of the international community to take "substantive measures and make a great effort" to end Israel's assault on the hospital.
Al-Shifa Hospital, situated in northern Gaza, is currently surrounded by Israeli tanks and faces a blackout as its last generator ran out of fuel.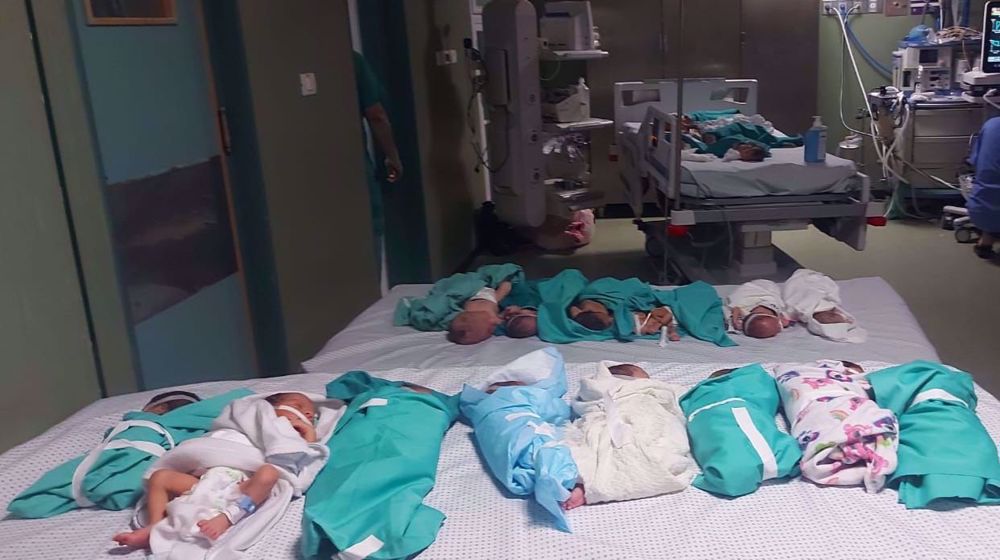 Deputy Health Minister in the Gaza Strip Youssef Abu Rish said an Israeli aerial assault on Sunday destroyed the cardiac department of the hospital, adding that the facility was flattened as fighting raged around it.
Asked about Saudi Arabia's hosting of the joint emergency meeting of the Arab League and the Organization of Islamic Cooperation (OIC) and the Saudi-African Summit held last week, Mao said that Beijing welcomes a clear message sent by the summit in Riyadh on the importance of bringing about a ceasefire in Gaza, protecting civilians, scaling up humanitarian assistance and implementing the two-state solution.
Pointing to the need to halt the Israeli atrocities, Mao noted that her country has a "very much similar" position to that of the Arab, Muslim and African countries.
Since the beginning of Israel's war on Gaza, she added, China has been in close communication with relevant parties to call for ceasefire and restoration of peace.
"China supports all efforts aimed to de-escalate the situation and bring back peace," the diplomat emphasized.
"China will work with relevant parties to continue to work relentlessly to protect civilians, deescalate the situation, resume talks for peace and realize peace," the spokeswoman said.
Israel waged the bloody war on Gaza on October 7 after the Palestinian resistance movement Hamas launched Operation Al-Aqsa Storm against the occupying entity.
The Palestinian death toll from Israeli strikes on the Gaza Strip has climbed to 11, 240, including 4,630 children and 3,130 women. More than 28,000 others injured in the regime's military onslaught so far.
At least 22 hospitals and 49 health centers have ceased operations in Gaza due to Israeli attacks and a shortage of fuel needed to operate power generators.